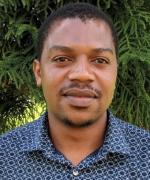 Kelvin Mulungu
Dr. Kelvin Mulungu is a Postdoctoral Fellow under the Social Sciences and Impact Assessment Unit and is based at Duduville.
He holds a Ph.D. in Agricultural and Resource Economics from Colorado State University in the USA. He previously worked as a Research Fellow at the University of Zambia's Institute of Economic and Social Research. He has also worked in development starting with World Vision as Monitoring and Evaluation Officer and later as Research Manager for the International Center for Tropical Agriculture's HarvestPlus project in Northern Zambia.
Dr. Mulungu won a Fulbright Scholarship for his Ph.D. studies. During his Ph.D. studies, he got two fellowships and a grant. He was a Ph.D. student Research Fellow at Africa Rice Center where he implemented a Randomized Controlled Trial to measure the adoption and impact of a rice processing technology. He was also a Sustainability Leadership Fellow under the School of Global Environmental Sustainability at Colorado State University. He was also a recipient of the Nestle Foundation grant to study agricultural production and nutrition challenges in rural Zambia as part of his dissertation.
At icipe, he is working to evaluate the impact of icipe technologies including insects for food and feed, integrated pest and pollinator management, and the overall impact of the institute. He applies the latest econometrics methods such as machine learning to understand heterogenous impacts and improve intervention targeting.
He has published papers in development, economics, and science journals.