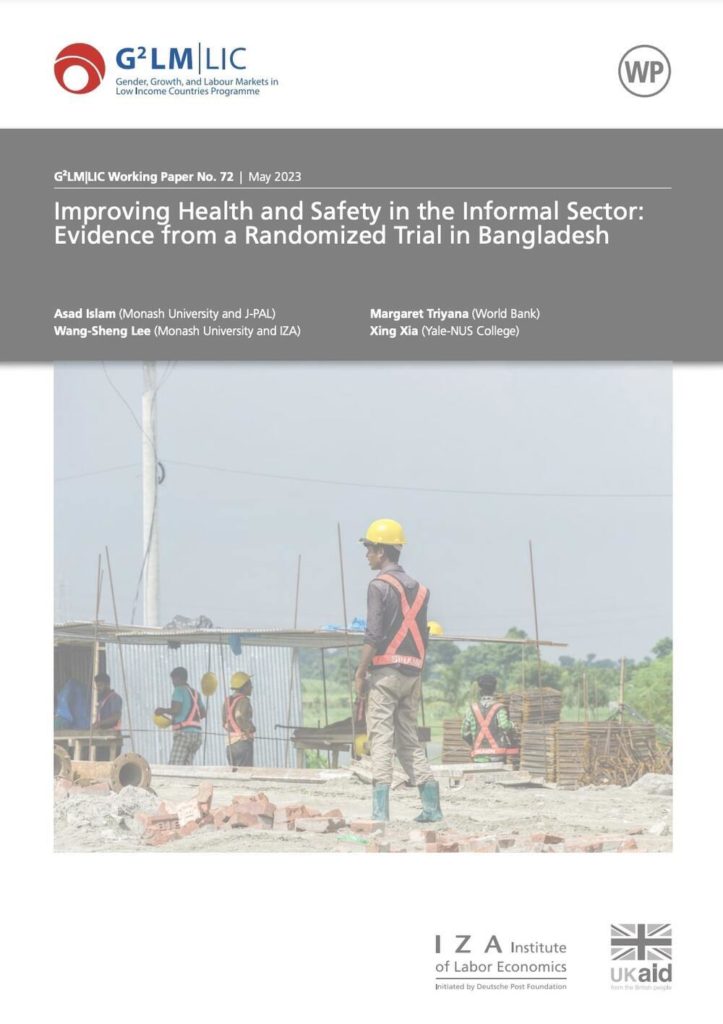 Workplace accidents and hazards carry significant economic costs and harm to workers' health and productivity. However, improving occupational health and safety (OHS) measures can enhance operational efficiency, benefiting worker well-being, firm productivity, and profitability. This is particularly important for small and medium-sized enterprises (SMEs) and the informal sector in low- and middle-income countries (LMICs).
To investigate if entrepreneurs' lack of awareness about OHS acts as a barrier to firm growth and profitability in LMICs, this study conducted a randomized controlled trial in Bangladesh's light engineering industry. The study partnered with BRAC, a prominent NGO, with two primary objectives: evaluating the impact of OHS training on firms' business practices and performance, and assessing the complementarity between OHS training, business training, and access to financing. The results showed significant improvements in overall business practices, especially in safety and basic accounting. Firm output increased with the OHS intervention, while OHS training combined with business training led to higher employment rates and increased investment. The interventions also improved firms' market linkages and owners' management skills. This study contributes to the literature on enterprise training programs, highlighting the importance of OHS management skills for SME growth in LMICs. OHS training not only enhances practices, output, and productivity but also improves working conditions, benefiting worker health and well-being. While the interventions enhanced business practices and safety awareness, their impact on employment outcomes was modest.
In conclusion, this study demonstrates the effectiveness of enterprise training in improving workplace health and safety for informal firms in developing countries. OHS training positively influenced safety practices and accounting within firms. Additional business training and access to financing did not further improve OHS practices. Along with enhancing firm output and revenue, the interventions fostered better management skills among owners. Promoting OHS practices not only enhances productivity and profitability but also outweighs the costs in low-income settings with subpar working conditions. However, further research is necessary to expand our understanding of creating safer work environments across different industries and developing countries. Read the detailed working paper here.